Great for organizing everything you need for each of your projects! We will be making the Jumbo size in this class.
These handy zippered bags have sturdy quilted bases and vinyl windows for visibility of contents. A handle at the top may be used for carrying or hanging.
The medium, large, and jumbo bags also have colorful borders at the bottom. These borders may be pieced or may feature a single fabric.
Hold and organize everything from sewing supplies to puzzles, games and more in these sturdy bags.



Supplies Needed:
- 1 FQ main fabric
- 1 FQ lining fabric
- 1/2 yd coordinating fabric for borders, bindings, handle, and zipper pull
- either a Fat Eighth OR scraps of 8 fabrics used to make the bottom border
- 1/3 fusible interfacing
- 18"x18" ByAnnie's Soft & Stable
- 9"x16.5" vinyl
- 18" or longer single-slide zipper
- thread to match fabrics

What to bring to class:
- All the supplies listed above
- Basic supplies: sewing machine (don't forget your cord and pedal!), a seam ripper, 1/4" foot, rotary cutter, ruler, mat, scissors, spare needles for machine

Bring a sack lunch. We have a microwave, pod coffee maker, refrigerator etc.

Mesquite Bean Fabrics will give you a 10% discount on all supplies purchased for this class. (Make sure to tell them that your items are for a class.)

BEFORE YOU COME TO CLASS:
Please arrive 15 minutes before class in time to set up so class can start on time.

If you need to cancel a class, you can cancel up to three days before the class to receive a shop credit. If MBF or the teacher must cancel the class you will receive a full refund.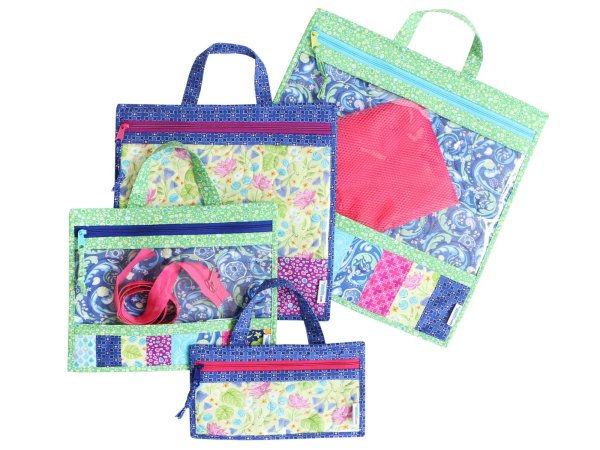 | | |
| --- | --- |
| Skill Level: | Beginner |
| Skill Details: | |
| Instructor: | Stacy Pyron |